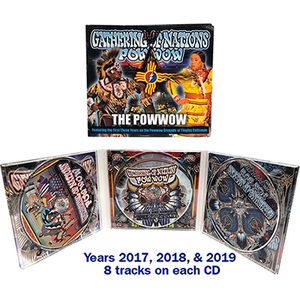 This recording of Native American music, recorded live at the 2017, 2018, and 2019 Gathering of Nations pow wow is intended to provide the listener with the complete experience from this great event. Hear and feel the thunder of the drums and the harmonious singing accompanied, while experiencing the excitement, emotion, spirit, and pageantry of North America's biggest pow wow!
3 cd set, featuring the first three years on the powwow grounds at Tingley Coliseum in Albuquerque, New Mexico from 2017, 2018, and 2019.
8 tracks on each disc for a total of 24 .