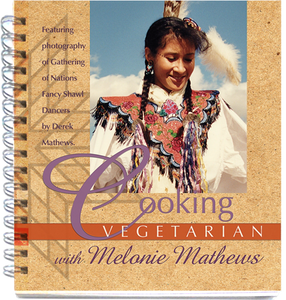 This cookbook is written for the enjoyment of everyone who enjoys a great meal. Surprisingly, a great meal can be delicious, healthy and meat-free. This vegetarian cookbook is an adventure through the flavors, aromas and my vegetarian and desert favorites.
Part of the training to be a Champion dancer begins with eating like a champion. I've always enjoyed a good meal and the fact that my family, whose cooking was a blend of traditional Native cuisine and good down home cooking always left me satisfied. My families come from many places; Santa Clara Pueblo (a Native village north of Santa Fe, New Mexico), Navajo Nation, and the Mid-West. As a part of preparing and selecting the recipes, I looked at what were my favorites and what could be prepared meatless. I've been inspired and influenced by my families' cooking. Enjoy! ~Melonie Mathews~
This wonderful cookbook is filled with delicious recipes including Beverages (hot & cold), Soups & Stews, Main Dishes, Sauces & Dips, Breads & Muffins, Desserts & Treats, and Special Helps; plus beautiful photographs of Gathering of Nations Fancy Shawl Dancers.